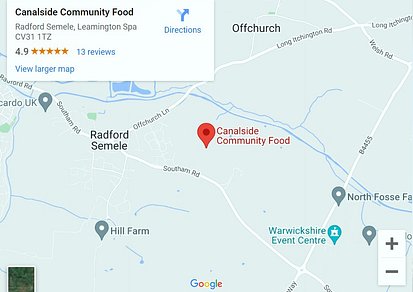 Next Event
Canalside Community Food
Tuesday July 19th, 19:00
Southam Road
Radford Semele
Leamington Spa
CV31 1TY
HEOG Members free, Non-members £3.00
We've had a long relationship with Canalside Community Food, founded and supported by longstanding friends and members. It has been a good while since we had a group visit so we are really grateful to Gareth Davies for offering to give us a tour to see the inspiring success story of how the scheme has developed.
https://www.canalsidecommunityfood.org.uk/
Canalside Community Food is a Community Supported Agriculture scheme for people in Leamington/Warwick area providing weekly organic shares of seasonal vegetables and fruit.
Until 2018, the land farmed by Canalside Community Food was part of Leasowe Farm (a family run farm that covers an area of about 145 acres just outside Radford Semele, next to the Grand Union Canal.) and was rented from the Ingall family.
After 10 years of growing vegetables on the land, the Ingall family offered Canalside Community Food the exciting opportunity to buy the land. An investment share offer was launched in spring 2018 and, after an extremely positive response from Canalside members and their friends,family members and the public, the purchase price of the 10 acres was raised through investment shares. The land farmed by Canalside Community Food (now run as a Community Benefit Society or CBS) is now owned by the community and held in perpetuity for the purpose of growing food for local people.
As well as the vegetable growing fields, polytunnels and social area, Canalside Community Food has a small mixed orchard on Leasowe Farm land that continues to be rented from the Ingall family. The trees were planted in winter 2009-10, along with a variety of soft fruit bushes and plants, as well as rhubarb.
Directions to Canalside Community Food
Canalside Community Food is near the edge of Radford Semele village on the road towards the Fosse Way.
If using a satnav, please use the postcode (CV31 1TY) until you are between the housing development called Semele Park (Bloxham Way) at the edge of Radford Semele and the Fosse Way, and then from Leamington/Radford Semele: look out for a carved wooden sign (see picture above), on the left, just after a handful of houses on the right. Turn left down the drive.
Please go all the way down through the woodland, into the next field and park in the parking area next to the polytunnels.